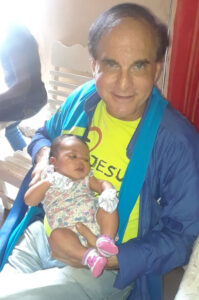 Dr. Gene Antonio – Bio
He is a true warrior, full of passion, enthusiasm, the honest truth, with God's concern and love for others. Gene and his family have kept legalized abortion out of the Dominican Republic, and the fight continues!
Dr Gene Antonio, an American missionary and specialist in holistic medicine, is a man with a unique mission. He has dedicated his life to empowering young people in different cultures to treasure and include the value of all human life, starting from conception, and making positive lifestyle choices.
He also is dedicated to educating governmental and church leadership about the importance of being inclusive in providing human life with legal protection at every stage regardless of age, location, ability, circumstances, or color.
For the last 15 years, Dr Gene, and his family, have spoken with tens of thousands of children and adolescents in the Dominican Republic on the importance of protecting life in the womb, how to prepare for marriage, the crucial role of fathers, overcoming abuse, rejecting suicide and pornography, bringing out the seeds of greatness God has placed in their hearts, and fulfilling His awesome plan for their lives.  
Dr. Gene has a powerful gift for communicating tough truths in a warm, loving and effective manner. Children, teens and adults alike sit spellbound during his exciting and encouraging presentations.
Dr. Gene and his family have kept legal abortion out of the Dominican Republic through heroic efforts. It's time for another big push to educate the religious leaders, media, politicians, the public, and especially the youth!
Action Needed Now!


Stop the Dominican Republic from being turned into a slaughterhouse for selling aborted baby parts to the United States!
The Dominican Republic is a rare beacon of light for life — it totally prohibits the killing of pre-born children as well as euthanasia. The radical feminists and Planned Parenthood are mounting a vicious underhanded attack to open the floodgates of abortion on demand. Their plan is to transform this beautiful pro-life country into a slaughterhouse for exploiting poor women into killing their babies, in order to harvest and traffic their organs.  They are doing this by stealth, insidiously working to change the DR's penal code. Due to the scarcity of media coverage, most Dominicans are not even aware this assault is going on.
American stalwart pro-life missionary Dr. Gene Antonio has been in the forefront of successfully leading the charge against "opening the sluicegates for the blood of the innocents" for many years. He has worked to educate public and religious leaders about the horrors of legalized child killing.  
Right now, Dr. Gene urgently needs your support for a lightning strike educational campaign to alert people as to the horror that the pro-abortion forces are trying to unleash by stealth.